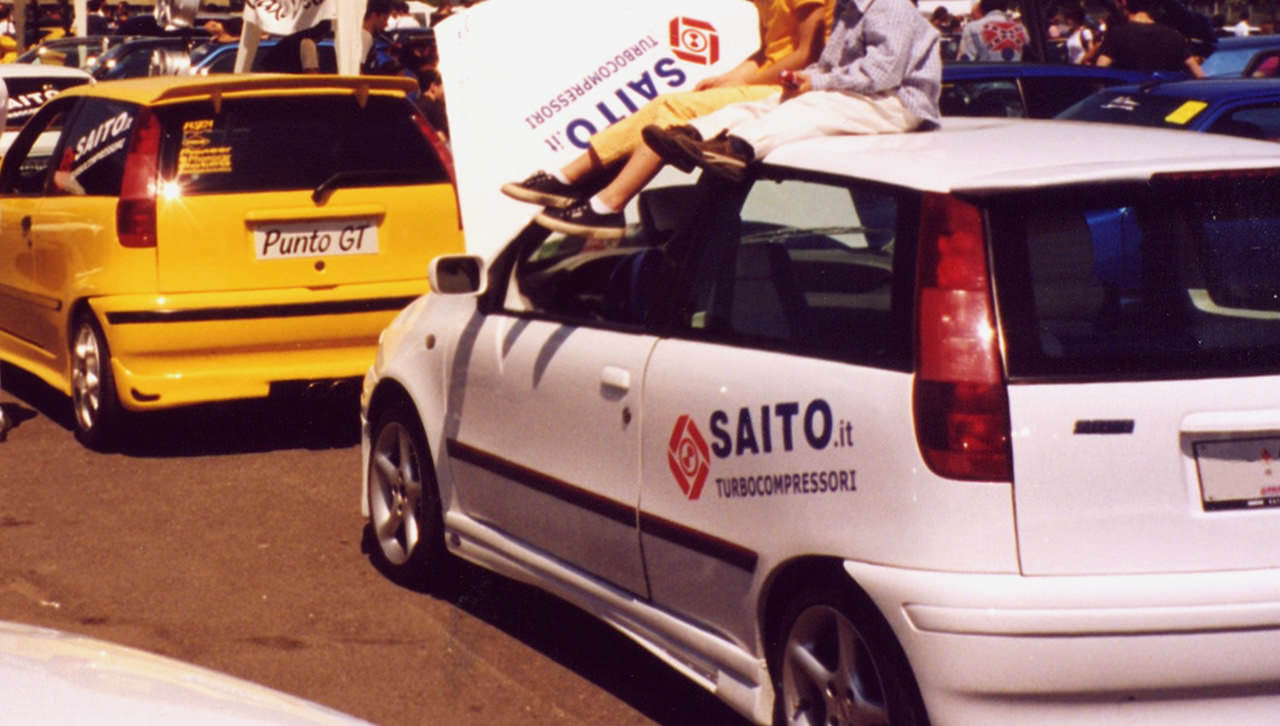 Information
☎ Call: +39 071715693
✉ Send e-mail: info@saito.it
🌏 Worldwide delivery!
Description
SP170 kit for Fiat Punto GT: Strongly tested, reliable and powerful!
Thanks to the experiences collected by our owner Stefano Gallo, working in the sports sector as head of the official Abarth and Alfa Corse projects and for Garrett in fall 80s, in 2000 Saito has established it's own tuning dept. The ease of installation, the affordable prices and the reliability of our turbo kits such as the SSB85 (for SMART 0.6) turbo kit have allowed us to achieve success in the tuning sector giving the opportunity to develops new projects. We are proud to have been the first Italian company to make turbo-powered kits in series, an activity that has never ceased since the year 2000 on. At the beginning of the 2000s, one of the reference cars was undoubtedly the Fiat Punto GT, a car loved by young people who usually try to fit Garrett T25 turbines, original / modified IHI VL7s or KKK K16 turbines homemade. In our opinion these three products were valid for obtaining about 170 horses but they were still too fragile for problems related to their structure:
– Garrett T25: it mounts a 280 degree thrust bearing able to support stresses generated by a max pressure of 1.3 Bar. Beyond this limit the bearing yields with consequent destruction of the turbo;
– IHI VL7: the shaft is too light and the welding of the turbine impeller is not the same as the one produced by other companies. The compressor is very small and to generate the necessary air flow rates it is forced to run at too high a rate;
– KKK K16: the one for Alfa 164 TD VM motor was usually used, whose exhaust casing resilted to be not particularly reliable and the thrust bearing was Garrett type at 280 degrees;
The SP170 Kit is equipped with a Mitsubishi turbine with 360 ° thrust bearing, a real strong point of the system, a SiMo turbine casing and an oil-cooled central body. The generous size of the compressor linked to a turbine crankcase with a non-overly permeable volute allow to obtain all-round torque levels with a maximum output around 2,700 engine revolutions while the power obtainable at about 1.3 supercharging bar reaches 180 hp all with absolute turbo reliability. A balanced product in performance, reliability and price that has allowed us to make known and make famous the name of our company!
On prepared engines with molded pistons, ring head gasket, correct remapping, boost pressure 1.7 Bar and increased injectors you can exceed 200 hp.
The kit includes:
1 Turbo with 1.2 bar actuator (recommended pressure with a stock engine to reach around 170hp);
n.1 Downpipe for connection to the exhaust pipe;
n.1 Inlet Oil pipe;
n.1 Sticker set
Optional:
Compressor impeller installation made of forged bar "Avional".
Important notice: In order to realize SSP170 we need to receive the original VL7 cover compressor.


COMPARATIVE TABLE
FIAT UNO IIa SERIE
FIAT PUNTO GT
IHIVL5 / VL7
SAITO SP170
SAITO SP190
Compressor Inducer
Compressor Exducer
Compressor Height
Compressor Blades n°
33,5
52
17
10
39,5
51
18
12
42
56
20
12
Turbine Inducer
Turbine Exducer
Turbine Height
Turbine Blades n°
49,5
36
17
9
47
41
17
12
52
46
18
12